Hell Bruizes – Moscow, Russia – Indie Rock
My first Russian entry for Musigator, Hell Bruizes is a hard-hitting sexy soundwave of gooey rock 'n' roll goodness. I was first drawn to the band after seeing the cover photo for their latest release, Ideal Villain. The band sits around a nice apple pie they have thoughtfully baked for the viewer. So thoughtful! Until you look again. With sinister lighting, a stack of bones on the table, and one of the bandmates forcefully thrusting a glass of something (is it wine? Why would you think otherwise?) in your direction, it would be my recommendation for the receiver of that pie to not eat it.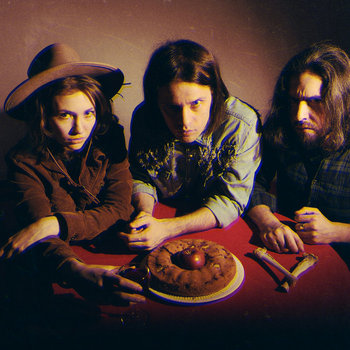 Not that I'm a suspicious fellow. I just don't trust this pie.
However, while I can't necessarily speak to the band's cooking, I definitely recommend listening to their music.
In particular, I recommend listening to the band's album On Your Knees for the freshest pie in Hell Bruizes' musical bakery. The riffs are scrumptious, (with some octave pedal goodness and general grungy hard rocking licks) an enticing vocal display (a little bit Yeah Yeah Yeahs, a little bit The Kills), and a bass that's fit to taste. It's killer stuff.
Burnlaw
This is a band where I'd recommend checking out the Bandcamp before their YouTube, just because most of the videos are live videos of the band playing. That being said, Hell Bruizes does have an excellent collection of live recordings, so if you don't plan on booking a flight to Moscow anytime soon, you'll still be able to experience the fret blasting abilities of Hell Bruizes face to face (more or less).
What else needs to be said about this band? Great sound, great aesthetic, high energy. Does hell bruise? Of course, it does. But hell bruising certainly seems to feel good on the ears.
For more information on Hell Bruizes: